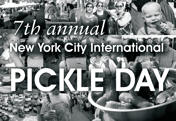 This is my first entry for the International Pickle Day on September 16, 2007, celebrated by the New York Food Museum.
FoodFreak
has called out to the food bloggers to take part in that event with recipes and stories of pickles.
As a child I always liked pickles: gherkins, those tiny little baby corn cobs, bell peppers, ... I even liked (and still like) pickled beetroot. The only ones I hated were my grandmother's sweet-and-sour pickled pumpkins. Every year she produced lots of jars which had to be emptied until next autumn and with it the new batch of pumpkin pickles arrived. I visited her regularly and there was pickled pumpkins for (nearly) every lunch. Until a few years ago I didn't even touch any dishes with pumpkins in them. But fortunately that's over.

This is the first time I tried to make a chutney. Somehow the combination of sweet carrots and fruity-hot ginger appealed to me, when I read the recipe. Of course, I tasted it during the preparation and it was like I had imagined.
Unfortunately I made a little mistake in preparing the carrots: the (German) recipe really wanted them to be something like 'grated', but the translation from the original English version came out more as 'shredded'. So the result looks a little bit squashy.
Carrot and Ginger Chutney with Almonds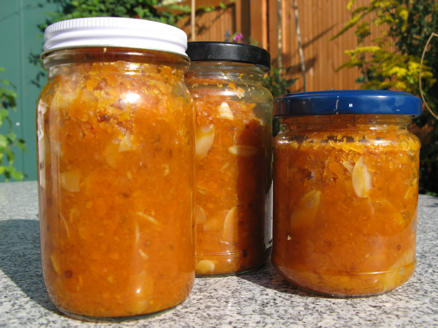 Source:
Marmeladen, Öle, Chutneys...
Hilaire Walden, Kaleidoskop Verlag
18.08.2007 by Sus
Categories:
Chutney, Carrot, Ginger
Yields:
1.1 Kilogram
Ingredients:
| | | |
| --- | --- | --- |
| 450 | gram | Carrots; thinly sliced (*1) |
| 15 | gram | Coriander; ground |
| 15 | gram | Sea salt |
| 2 | pinches | Chili |
| 1 | | Lemon; Juice and scraped peel |
| 250 | ml | Cider vinegar |
| 50 | gram | Ginger, fresh |
| 350 | gram | Sugar; preheated (*2) |
| 50 | ml | Honey; liquid |
| 25 | gram | Almonds; flaked |
Preparation:
Put the carrots, coriander, salt, chili, lemon peel and lemon juice with the vinegar into a bowl. Grate half of the ginger and cut the rest into thin slices. Add the ginger to the mixture, cover the bowl and let it steep overnight.
The next day put the mixture into a large cooking pot. Bring to boiling with 150 ml of water and then let it simmer gently for 20 minutes.
Stir in the preheated sugar and honey. When they are dissolved and simmer for 20-25 minutes until the mixture is thickened. Add the almond flakes and simmer some more for 4 minutes.
Remove the chutney from the stove and fill it in preheated, clean and dry preserving jars. Try not to trap air bubbles.
Close the jars with acid-resistant lids. Wait at least a few days - better longer - before opening.
*1: The carrots may be sliced length- or crosswise or diagonally, determining the length of the slices.
*2: Sugar will dissolve more quickly if it is warm. Put the required amount of sugar in a heatproof bowl, then place in an oven, preheated to its lowest setting, for about 20 minutesor until the sugar is warm but not hot.
---

Corum
- Dienstag, 4. September 2007, 12:52
|
Kochen, Backen und Genießen
|